The No LNG Export campaign is crowd-funding an ad to run in the Oregonian this Sunday, asking Gov. Kate Brown to Stand with Oregon and say no to LNG Exports.  FERC has released their final Environmental Impact Statement, and the next month is critical for Gov. Kate Brown challenge FERC's decision and to make sure the state considers the devastating impacts the federal government ignored and that should prevent the LNG Projects from going forward.  Every dollar helps! 
Help Stop Oregon from Becoming a Fossil Fuel Export Hub
Out-of-state fossil fuel companies want to make Oregon a hub for fracked gas exports. Two LNG export proposals – the Oregon LNG project and the Jordan Cove LNG project – threaten our climate, rivers and salmon, existing jobs, private property owners, and the health and safety of rural communities. We need Governor Kate Brown to stand up for Oregon and say NO to LNG Exports, and we need her to do it now. A diverse coalition of community organizations, environmental groups, landowners, and more are going to run a full-page ad in the Oregonian on October 4 to publicize a statewide call-in day to the Governor's office on October 5.  
We need to raise $10,585.86 by 

Oct. 3

 to run the ad below in the Oregonian on 

Sunday Oct. 5

.
In addition to the amount listed the the right, we have an additional $1,350 that has come in through the mail! Thanks for all the support.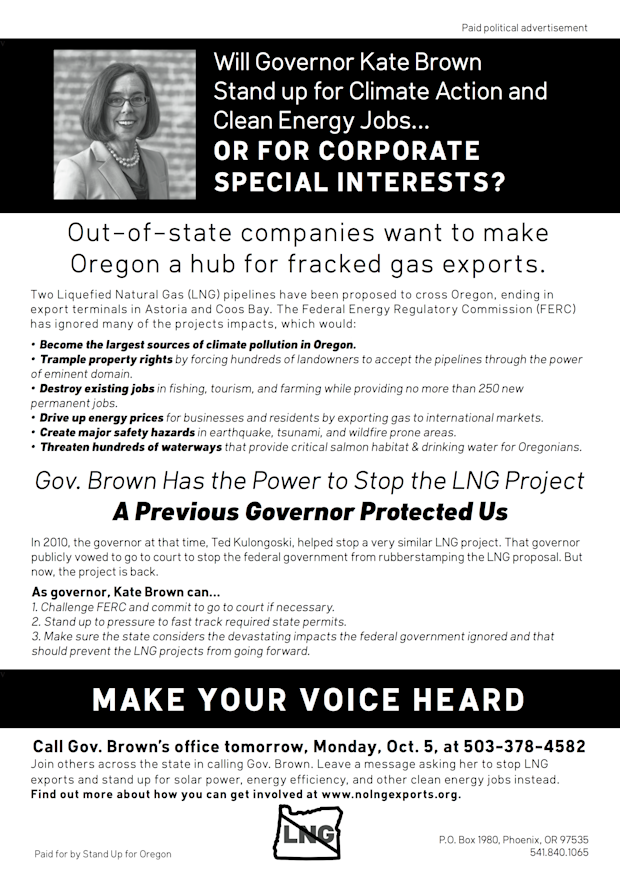 Why the urgency? 
The Federal Energy Regulatory Commission (FERC) will release its Final Environmental Impact Statement for the Jordan Cove LNG Export project on Sept. 30th, most likely rubberstamping the project, while the Oregon LNG project has entered their public comment period.  Shutting down these proposals now lies in the hands of our state environmental agencies – the Department of Environmental Quality and the Department of State Lands.  These agencies are getting pressure from project proponents to speed up the permitting process. The Governor needs to make sure that the state considers the devastating impacts that the federal government has ignored which should prevent the LNG projects from going forward.  
Help make the ad have a big impact:  
Share the Indiegogo campaign all over social media, and invite your friends and family to donate whatever they can. It all helps, from $1 to $1000. 
Join the call-in day on Monday Oct. 5 by calling Governor Brown at 503-378-4582 to ask her to say no to LNG exports through Oregon.
Why a paid ad? 
Generally, we think big paid political ad's are not the best use of money. But this is a special situation. We have held rallies, we have published hundreds of letters to the editor, we have collected thousands of petitions, we have met with our elected officials, we have organized call-in days…but Governor Kate Brown isn't listening. We all urgently need to ramp up our outreach to people in Portland, Salem, and the rest of the state.  This full-page ad in the Oregonians will reach thousands of new people. This ad is part of an intensified statewide campaign to make it clear that Kate Brown has a choice to make. Will Gov. Brown stand up for climate action, clean energy jobs, property rights, and Oregon communities? Or will she stand with big corporate special interests? 
Who is sponsoring this campaign? 
Stand Up For Oregon!: No LNG. No Pipeline is a diverse coalition of community organizations, individuals, landowners, business owners and more who are working hard to stop our state from becoming a fossil fuel export hub for fracked natural gas.
Find out more about the campaign at 

NoLNGExports.org

Find out more about the proposed Jordan Cove LNG Export Project at http://www.36inchesmovie.com/
Find out more about the Oregon LNG Project at http://columbiariverkeeper.org/our-work/lng/
Do you like this post?